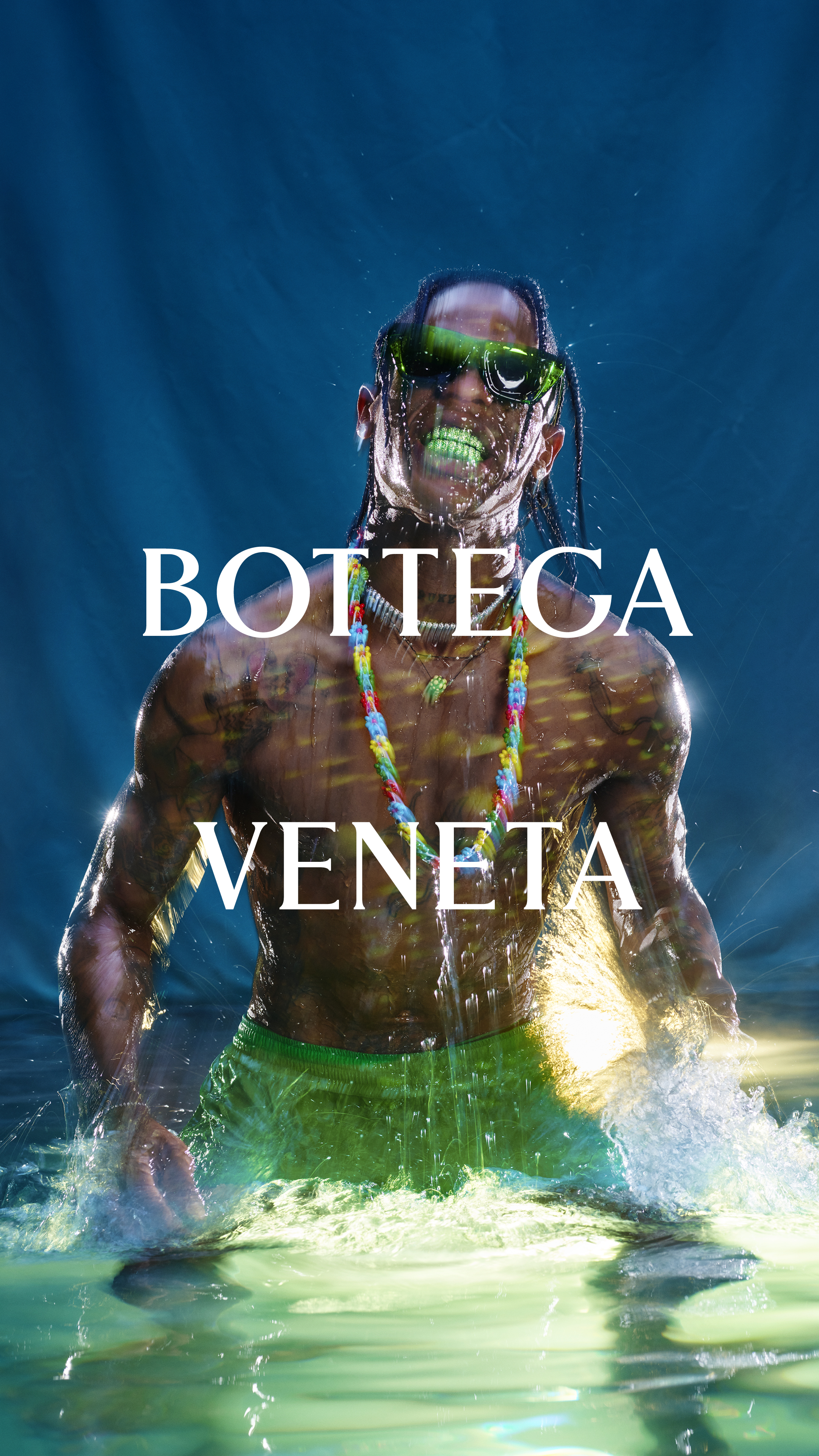 Travis Scott for Bottega Veneta and RuPaul for Balenciaga: What's in Fashion?
[ad_1]

With fashion week well underway, you're probably wondering how on earth there could be more stylish news worth reporting on. Well, surprise! There is. This week, we've seen Telfar take every gold medal going in the collab-Olympics, Bottega Veneta launch their latest Extremely Online digital zine, and Mama Ru join forces with the House of Balenciaga. No, not the Mariah Paris one, the actual Demna Gvasalia one. In further drag-related news, New York accessories label KARA has tapped two of New York's brightest young drag artists for the Pride edition of its series spotlighting young creatives around the world, and we meet Milan's most promising emerging menswear designers. Who is he? Read on and find out! Here's what's in fashion.
RuPaul joins the House of Balenciaga
Girls, get ready to sissy that walk into the weekend — Mama Ru has dropped a playlist… with Balenciaga! That's right, for the house's second collaboration on their official Apple Music playlist — the first being German metalheads Rammstein — style savant Demna Gvasalia has invited eternal style icon RuPaul Charles to put together a 3.5 hour hit parade of the sparkliest pop and disco you could fathom. Donna Summer, Madonna, Gaga, Beyonce, Nicki, Mariah… Oh, and there's merch, too! Hoodies, tees and caps all signed by original Supermodel of the World herself. You know what to do: grab yourself a T-shirt from the Balenciaga webshop, whack this on, and prance, I say — prance! MS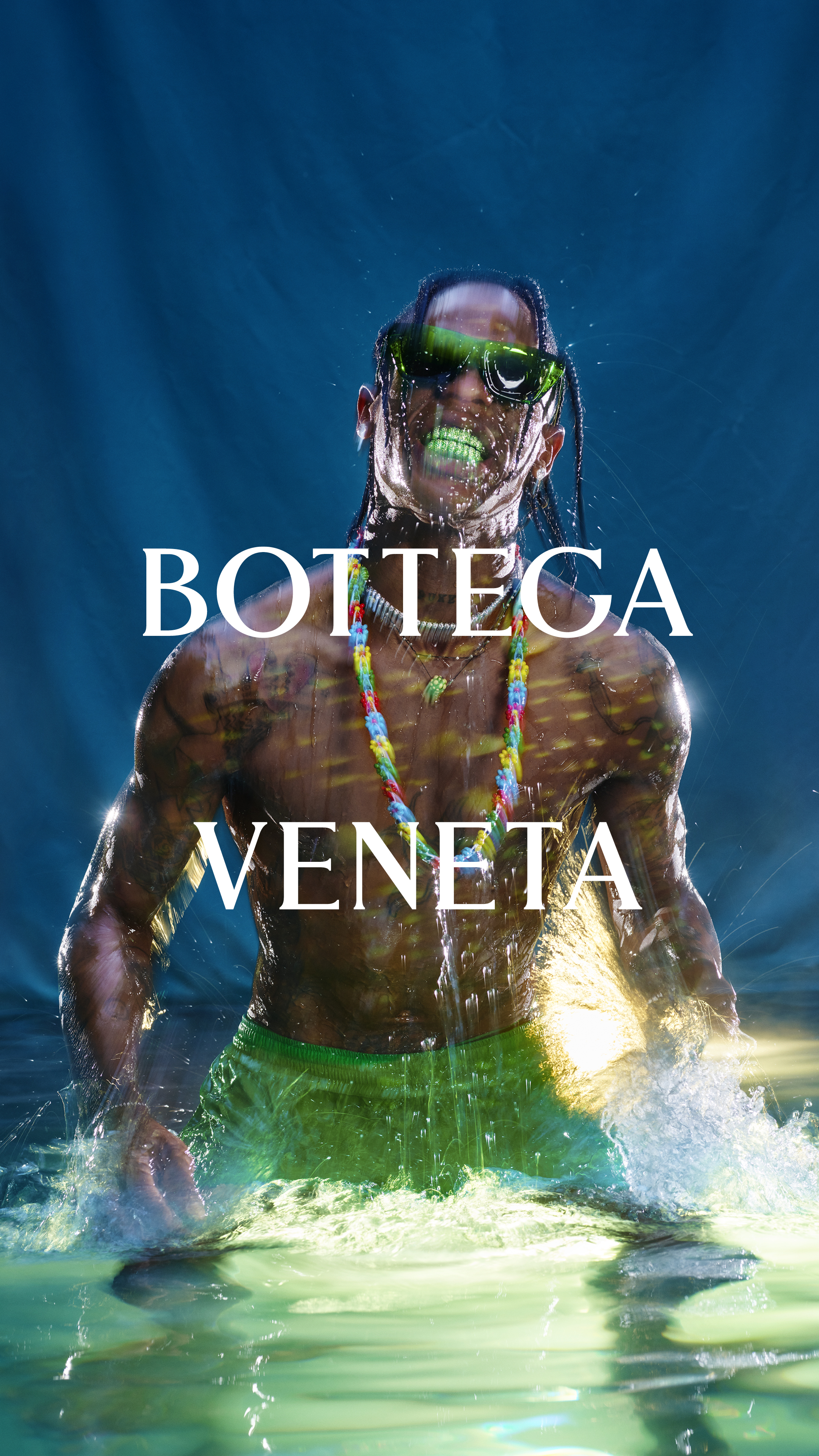 Photography David Lachapelle. Image courtesy of Bottega Veneta.
Bottega Veneta's new bootylicious zine! 
Bottega Veneta may have exited Instagram — we get it, mental health! — but the Italian brand has held no bars in creating its 'Issued by Bottega' zines, the second of which was released this week. Featuring unseen images from its starry campaign — Travis Scott! Little Simz! Slowthai! Skepta! — it is arguably the fashion equivalent of TikTok, a constant stream of quick-cut video clips and images, perfect for making full screen and having on in the background as you tuck into your lunch. Our favourite? The 'I-see-you-baby' shots of plumb derrieres strutting in marabou skirts and sequinned jeans. After a year of Zooms and front-facing catwalk shots, there's nothing quite like seeing the bottom half from behind. OA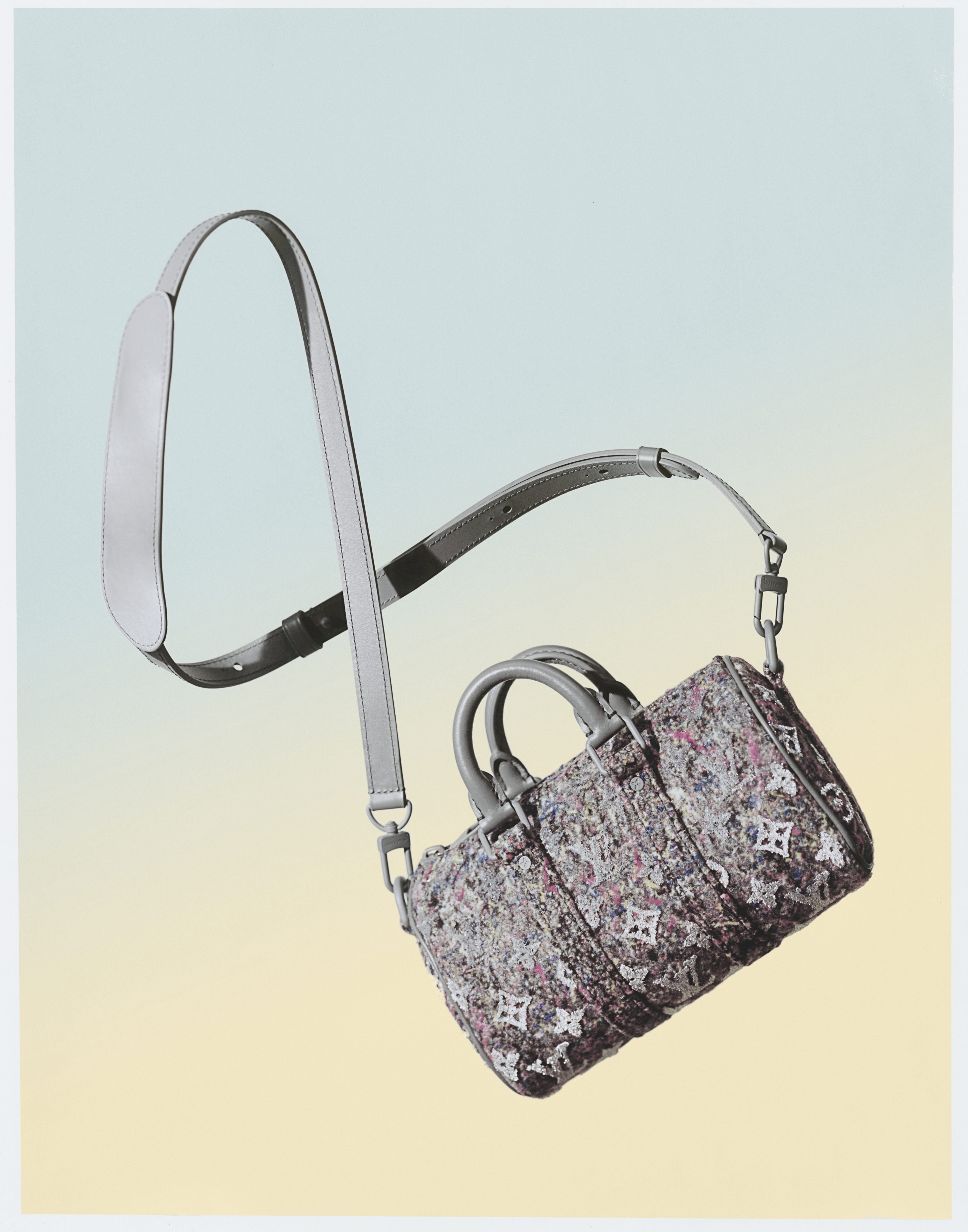 Image courtesy of Louis Vuitton
Louis Vuitton sets a new bar for sustainable swag
We know you're all still gagging over the rave-inspired extravaganza Virgil Abloh fielded yesterday for Louis Vuitton, but cast your minds back six months to the one before that. As you'll no doubt recall, it was during this AW21 show that Virgil fielded a capsule of accessories that embodied the ethos of circular creativity he's made a core feature of his tenure at the House: the Louis Vuitton Felt line. Comprising three tufted Monogram bags — the Keepall, the Keepall XS and the Soft Trunk — the range marks a bold advance for the world of ecologically responsible luxury accessories, made using organic cottons, recycled wool jacquards, and a 100% recycled polyester textile derived from existing LV stocks — oh, and a recycled plastic chain! What could be more sexy than that? The fact that it's just landed at your neighbourhood Vuitton store, of course! We don't need to tell you what to do. MS 
Erdem brings a touch of romanticism to menswear for SS22
Erdem Moralioglu may be known for his romantic dresses and quintessentially English roses, but the Candanian-born designer has just entered the menswear arena for SS22 with a fresh perspective on menswear — here are romantic clothes for romantic boys. Beautiful shawl-caped silk shirts, damask trench coats, cummerbund belts and boat neck mohair twinsets borrow from the whimsy of Erdem's womenswear. "The collection was almost like a blueprint of uniforms, pieces to keep and hold onto," Erdem told us. "I like menswear because it has a permanence to it, and it's not as trendy." In fact, there are even florals (toile de jouy and wallpaper jacquards) but their origins are a little more off-piste for Erdem: they are inspired by the life, work and garden of the legendary Derek Jarman, the polymathic artist and activist who documented his life until his death from AIDS in 1994. 
Erdem visited an exhibition on Jarman at the Garden Museum in Lambeth, where he discovered etching from his sketchbooks that now appear on T-shirts alongside looks that nod to the artist's early life and his Beatnik phase as a student at art school, and his beloved boiler suits. "There's a slight melancholiness that his life and body of work represent — ultimately he was a romantic," Erdem added. "Of course, he represents something punky and rebellious and different, but in a weird way, I was interested in him himself and what he would look like now." The collection was photographed on the grey English coast on West Wittering beach, not far from Jarman's house, Prospect Cottage, in Dungeness. For anyone in the UK right now, trudging through a very English summer, it's a bit of optimism. It may be grey and miserable, but we can look great nonetheless. OA
Telfar goes for gold!
We hope you've all been having a good week, but we can damn well guarantee that it ain't been as great as Telfar's! Kicking it off with the drop of his salivated over UGG collab, and rounding it out with the announcement of a collab with Canadian down jacket dons Moose Knuckles, on Tuesday it was announced that the auteur of thee Bushwick Birkin was heading to the Olympics! Well, his clothes will be, anyway — that's because the Liberian-American designer has designed the official uniforms for the Liberian delegation to the Tokyo 2021 Games. The West African nation's five athletes will be kitted out in sporty riffs on some of the label's most iconic garments, like the asymmetrical tank, as well as trackpants and shorts. Those wishing to get their hands on these activewear grails will eventually be able to, but the announcement also heralds Telfar's arrival into the world of sportswear, with a full collection arriving in September. "It will be an evergreen collection," Telfar told The New York Times. "These are clothes we want to sell for the rest of our lives." Fallen off the fitness routine wagon since the world got back up and running? Well, darlings, here is your reason to get back on it! MS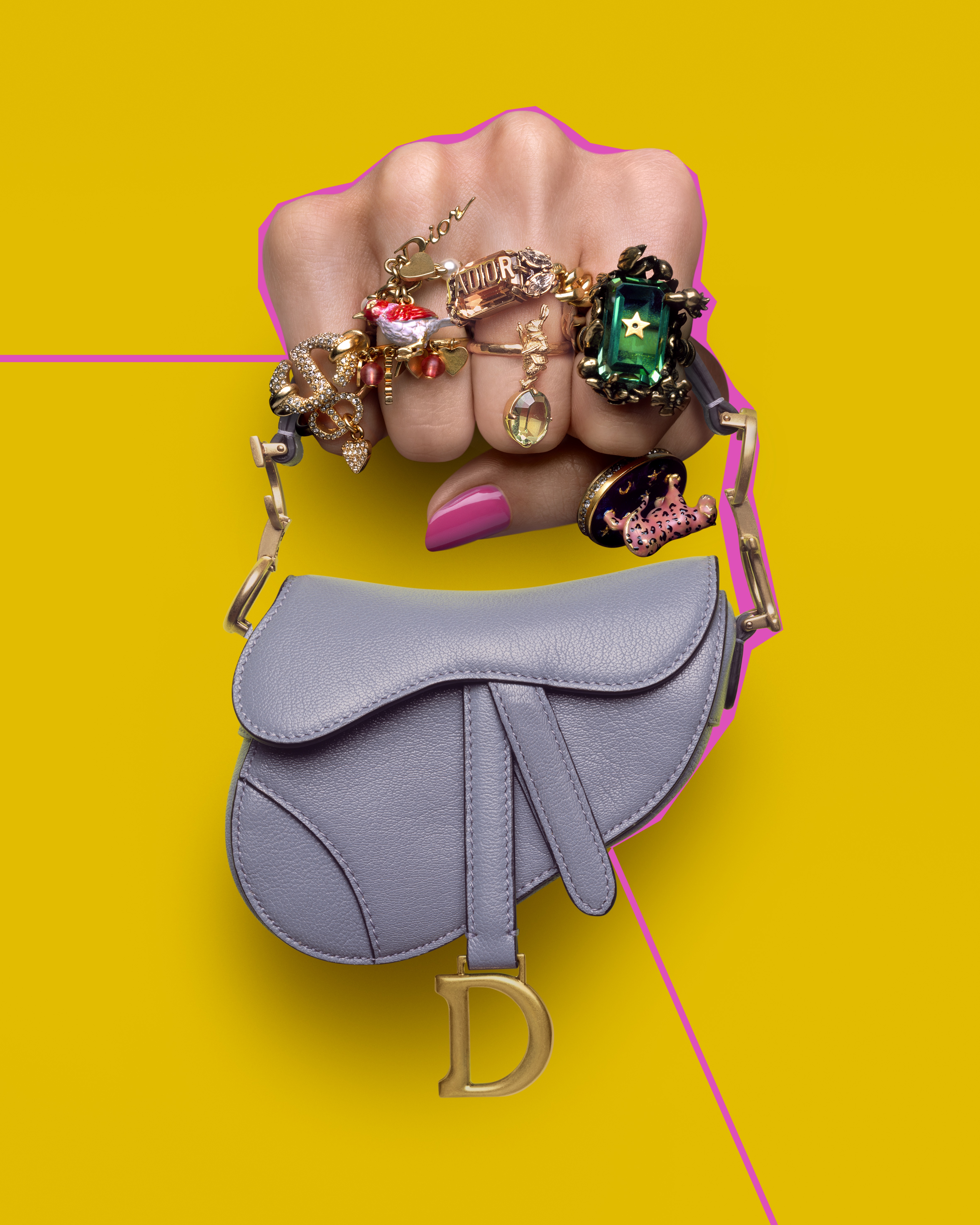 Visual by Brigitte Niedermair. Image courtesy of Dior
Honey, I shrunk the Dior! 
All good things come in small packages. Diamond rings, expensive chocolates, keys to a fabulous car… and as of this week, Dior bags! One of the biggest French houses, Dior has just launched a range of very small handbags. For scale, you could probably fit a lippie and a lighter in them. Does a girl really need more than that? Consider them a barometer for personal freedom. The more carefree you are, the less things you need in life. The more serious your relationship, the more things you can simply leave in your lover's bathroom unit. The more open you are to adventures, the lighter the load you carry. Teeny-tiny renditions of Dior's classic Saddles, Lady Diors and 30 Montaignes are not just another rendition of fashion's micro-bags trend — they're symbols of hot-girl-summer liberation! OA 
KARA gives us something to be proud of
True as it is that we're all born naked and the rest is drag, some of us better at it than others. Just in time for New York Pride this weekend, accessories brand KARA has decided to spotlight some of the AAPI drag artists pushing the art form forward in a new series of videos. They're part of the label's KARAyouBEyou series, which invites creative individuals from around the world to document themselves in KARA pieces, exploring and celebrating what makes them unique. For this Pride edition, the mic is passed over to drag artists Dynasty and Panthera Lush, who discuss their unique relationship to New York's drag and queer communities through the lens of their Asian American identity, as well as the importance of personal style in articulating who they are. "I think drag is one of the best ways for people to explore themselves," Panthera Lush says, while Dynasty reflects on "reconciling all of these different parts of me, and just accepting them as one identity," as well as the importance of connecting with people like yourself. A real must-watch! KK
Magliano is the Milanese label making classic Italian cuts camp
As deep as we are into Paris Fashion Week, Milan feels like it was all but a dream. There were moments, though, that were so fantastic that we remember them as if they happened yesterday — moments like the on-schedule show of emerging label Magliano. Born of the political queer community of nearby Bologna, the label, founded by Luca Magliana, offers a lightly camp, impeccably cut antidote to the street-fetishist timbre of much Italian streetwear. For his SS22 collection, Luca pondered the four humors — as in the Melancholic, the Sanguine, the Phlegmatic and the Choleric fluids, duh — presenting his multi-personality offering in an intense, windy short film. Here, we catch up with Milan's most exciting young menswear designer to find out more! MS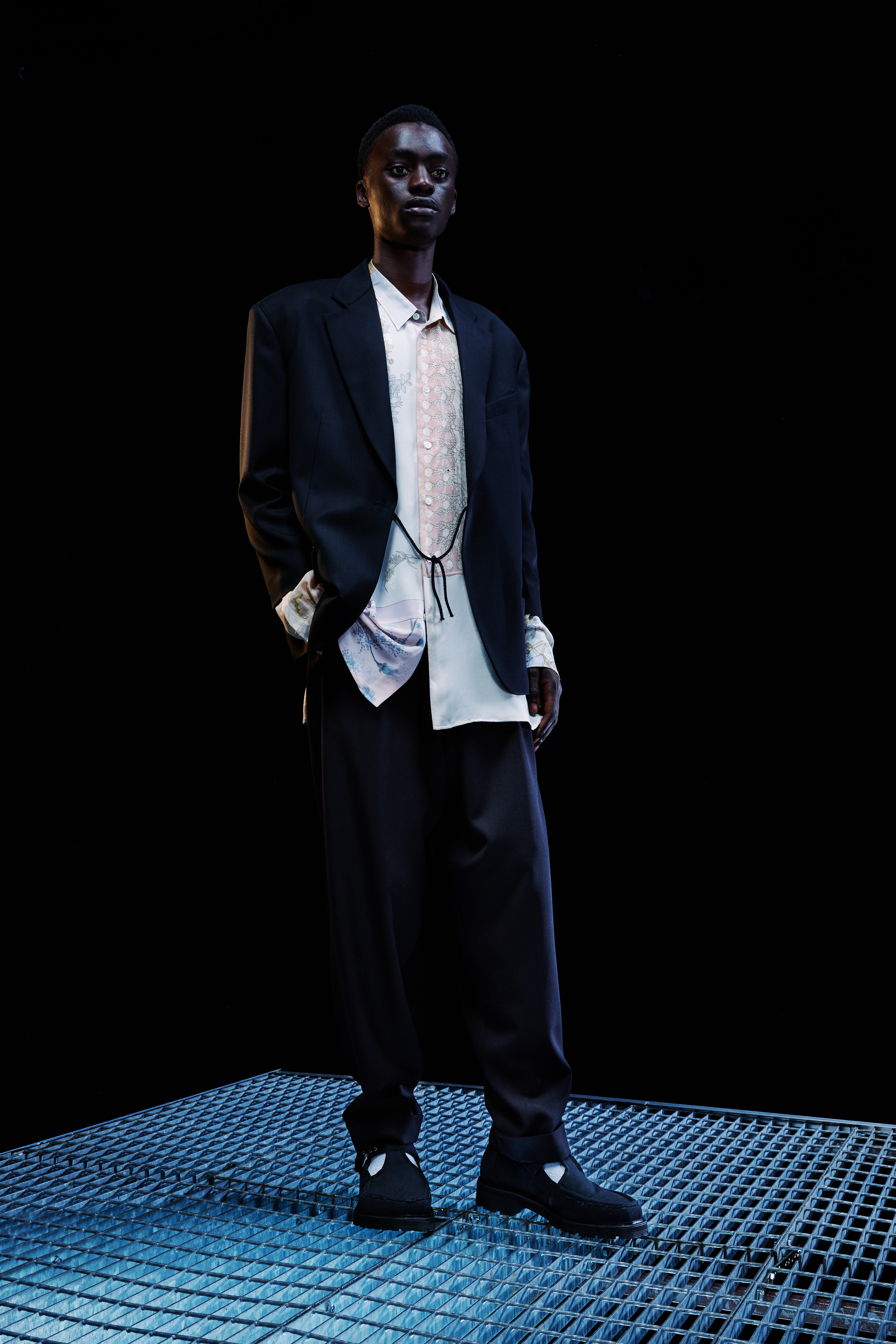 Image courtesy of Magliano
Hi Luca! First off, tell us a bit about Magliano. How did things get started, and what does the label represent? 
I started Magliano in 2017, a moment where Italian menswear was highly focused on a sort of street "xenophilia". I hated it, it was so reductive. So I started imagining a brand that could retake the legendary heritage of Italian pret-a-porter and mix it up with unorthodox aspects that I felt were mine. Since I've lived in Bologna all my life, I wanted the brand to talk about the Italian 'provincia', a magic emotional landscape where rich and poor, traditional and new, political and entertaining, natural and urban, and other contradictions that are typically allergic to one other co-exist. The first community I belonged to was the strongly political gay community of Bologna, so I wanted the brand to talk about queer wisdom and to have a humorous and camp tone of voice. I would say that Magliano is like a war happening inside a classic men's wardrobe, involving pride, nostalgia and low blows in equal measure.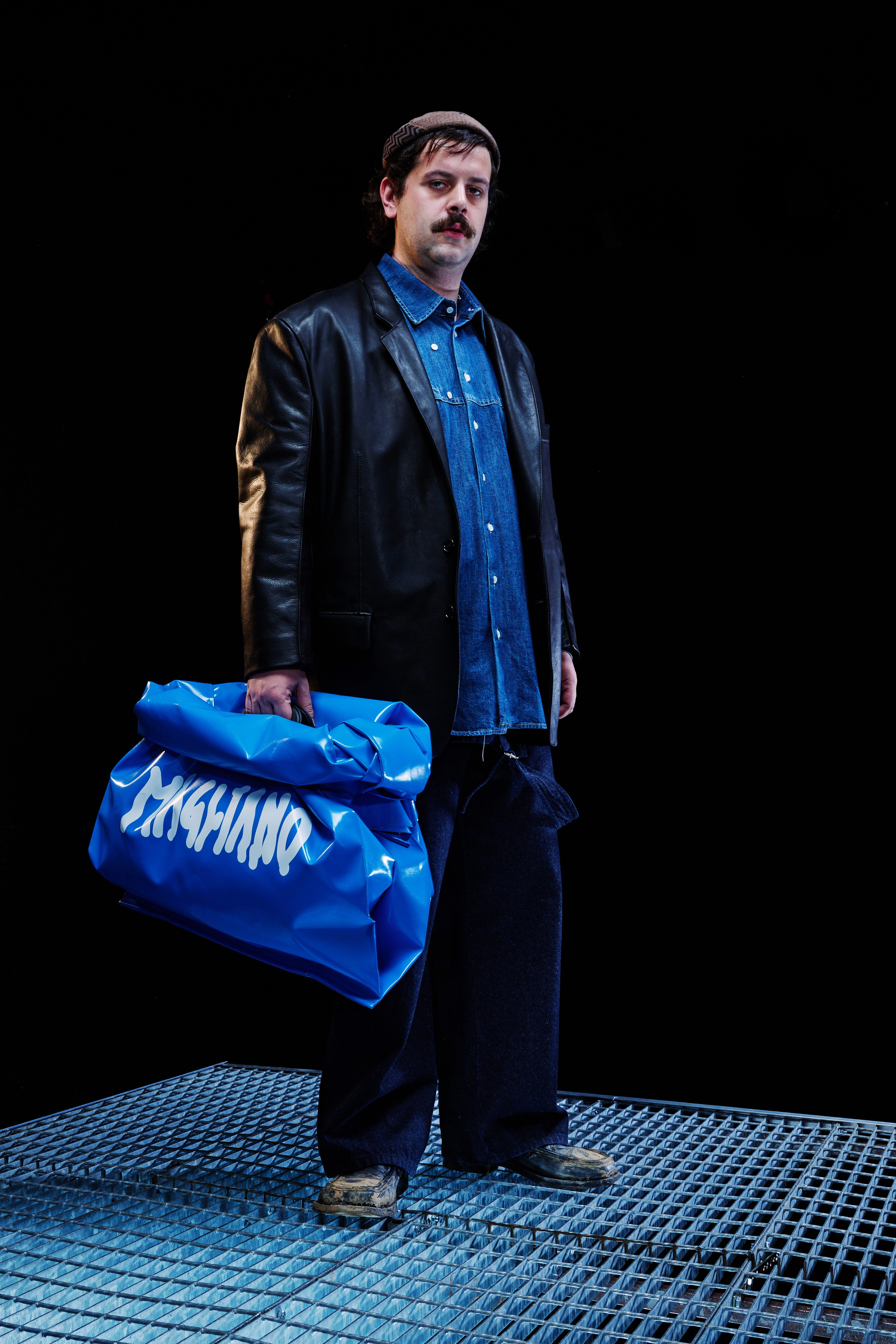 Image courtesy of Magliano
How would you introduce your SS22 collection? What were the main themes and inspirations you were looking to explore?
MAGLIANORAMA is the title, it is meant to be an exploration of Hippocrates' four temperaments, brought to their excess through the Magliano design language. The 'Phlegmatic' looks were inspired by the 'Freakkettoni' (an urban tribe associated with a hippie lifestyle) and saints. Prints from pre-owned t-shirts from the Montagnola, Bologna's flea market, and heavy metallic details were the essence of the Choleric looks. Sanguine looks were dedicated to lovers, cruisers and political characters of all sorts. And the Melancholic looks were studies on classic clothing from the 'officine' (garage and workshop workers), souvenirs of dreamlike spaces in the city.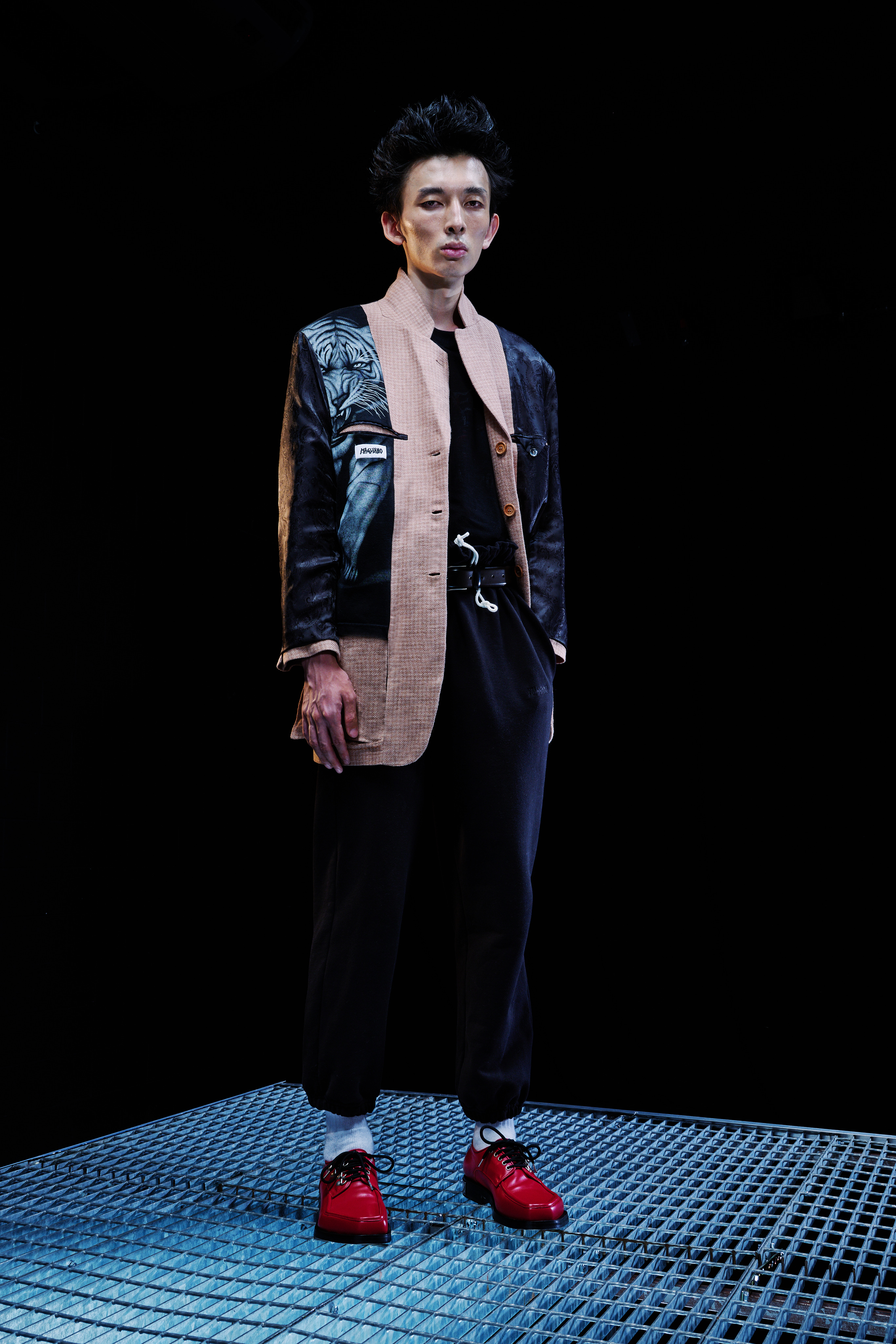 Image courtesy of Magliano
What was the concept behind the video you've created this season? And tell us about the collaborators you worked with. 
Very simple, we imagined our distinctive characters performing an exaggerated signature walk in extreme conditions, until the last breath. We wanted to give a sense of effort which everyone is talking about lately. That's why we had them against an overwhelming wind blown by a cinematographic wind machine. In response to this Edoardo Lovatti, a 12 year old boy, improvised an impetuous live soundscape filled with vitality. As for the other collaborators, Tommaso Ottomano is a videomaker who's worked with us since the beginning — he is able to communicate both the grotesque and sublime. Michele Rizzo is an artist, a dancer and a choreographer with a powerful intellect and an ability to translate concepts into movement. They're family to me, as are the rest of the team: Elisa Voto, the bossiest stylist on Earth who keeps everything together and concrete; Jim Nedd, the photographer who makes our characters look like hyperreal fantasy cards; Nunzio del Prete, a master of popular opulence; my beloved jewellery designer Rosario Iannariello; Klaus Jurgen Schmidt the campiest textile designer in the world; and Costanza Candeloro and Davide Stucchi, two super talented visual artists that I deeply admire — their voices, words and books are indispensable. 
Gucci's goes sky-high with its new jewellery collection 
"Big girls need big diamonds," famously purred Elizabeth Taylor. And she ain't wrong! Nowhere is this more pertinent than in Gucci's new high jewellery collection, the second from Alessandro Michele. Inspired by nature — the colours of a sky at sunset, waterfalls, starry constellations, rose gardens — the collection comprises one-of-kind jewels that we can only dream of wearing. The lucky girl who does get to wear them, however, is Jodie Turner-Smith, who stars in the accompanying campaign with a selection of real-life animals, a bit like those famous Helmut Newton pictures of Elizabeth Turner in her emeralds with a matching parrot. These aren't just any pieces of jewellery — they're the equivalent to haute couture, and chances are (although we wouldn't want to make any assumptions) you won't be able to afford any of these dazzling jewels either. But simply looking at them and gasping at their dazzling beauty is sometimes enough to keep us going. Something to work hard for, right? OA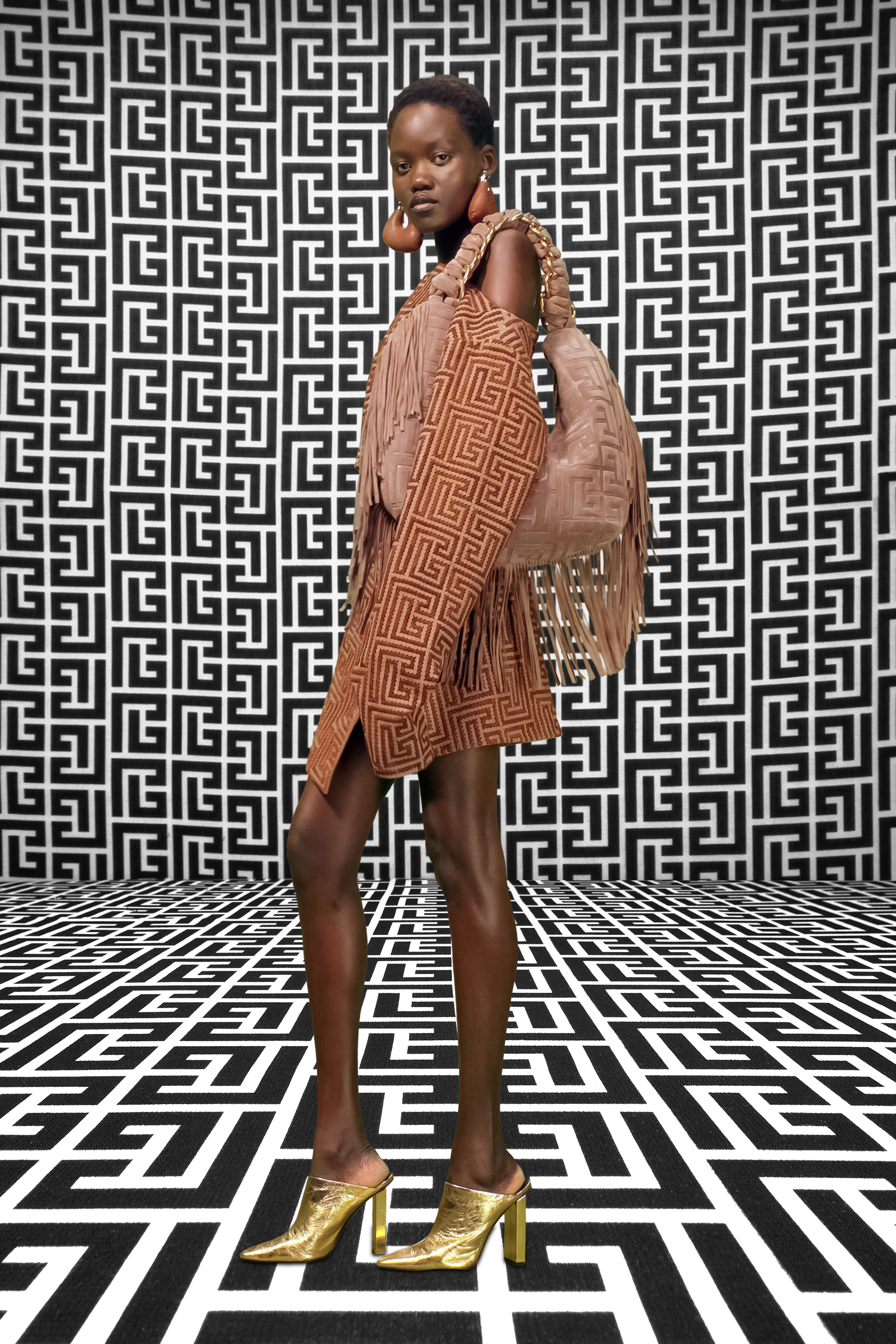 Image courtesy of Balmain
Balmain heads to the beach! 
Pack your bags and get your shades, girlies — we're going on holiday! Yes, vaycay (staycay?) season is officially upon us, and who better to bring your stylish holibob essentials than Kardashian-faves Balmain. For Resort 22, the Parisian house opens the door wide for you to explore an array of cultural influences. The collection, which comprises silk shirts, gauzy kaftans and military blazers decorated in beautiful patterns, embellishments and bold prints, harmonises an eclectic span of inspirations while still retaining a beach-lounger-appropriate air of nonchalance. The fashion powerhouse will also be hosting their second Balmain Music Festival, an annual celebration that brings the best food, music and fashion together. This year's festivities will be taking place at The Seine Musicale on September 28th and 29th during the SS22 womenswear edition Paris Fashion Week from 5pm to 11pm. Philanthropy is also one of the events founding principles — this year, funds will be raised in support of the work of their partners (RED) and the Global Fund, two pioneering organisations in the fight to end AIDS. So raise a glass! It's for a good cause, after all. KK


[ad_2]

Source link