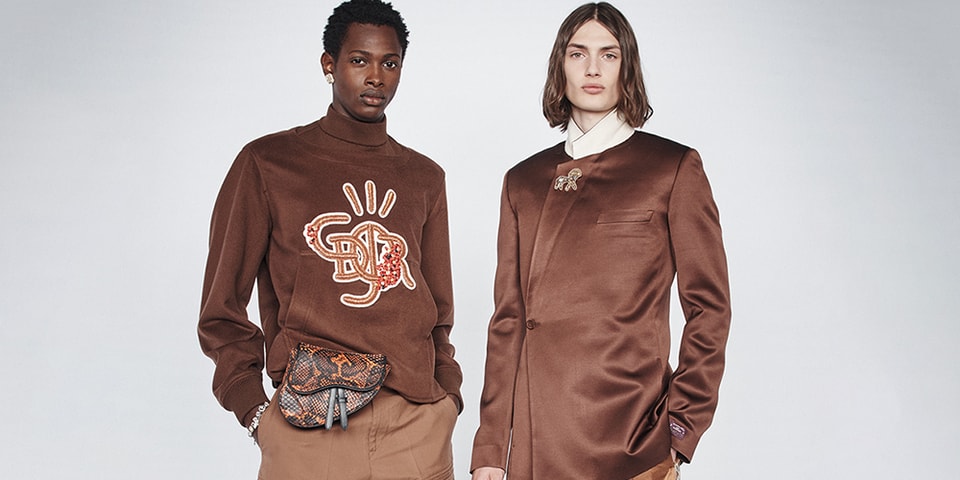 Cactus Jack x Dior Summer 2022 First Look Details
[ad_1]

Anticipation for Dior's Summer 2022 menswear show has been building since the house announced plans for a blockbuster Travis Scott collaboration. The partnership between Scott and Kim Jones — who appeared together at the end of the show — marked a new direction for Dior, representing the first time a musician had ever collaborated on a full collection. The show itself was also soundtracked by Scott, who teased new music throughout.
Throughout the collection, Dior house codes were mixed with Cactus Jack motifs. A series of large cacti appeared across the set, with cactus brooches and imagery featuring throughout the collection. Another collaborative highlight was a new logo, mixing Dior's branding with Cactus Jack, while other items were adorned with artwork by George Condo and Dior's historic Oblique pattern was recreated to read "Jack." Prior to the show, Scott also unveiled a T-shirt from the collaboration, dedicated to the late Pop Smoke.
In terms of footwear, the stand-out introduction was the skate-inspired B713 silhouette. As unveiled by footwear designer Thibo Denis, the sneaker came in a range of colorways and featured the special Dior logo on the heel, as well as CD branding on the tongue.
Speaking to HYPEBEAST before the show, Kim Jones discussed the origins of the collaboration. "I met Travis six years ago and we've been in constant touch since then," the artistic director explained. "And I started talking to Travis about the Foundation he wants to set up to allow students to go to college at Parsons School of Design that can't afford to go and fulfil their dreams. So I thought it was nice to then talk to him and say, why don't we do something together? Because then you're working with a fashion brand and a couture house that can support this project as well."
Jones goes on to say that, "The inspiration came really from the meeting of the worlds of Christian Dior and Travis Scott, particularly their gardens. So the set is designed that you come from Travis' garden in Texas to Christian Dior's childhood garden in Granville."
Speaking to WWD about working with Dior, and his history of collaborations, Scott said, "High-end, and even couture, has always even been in my metaverse of things I like. And I don't think there's even a difference going from McDonald's to Dior. It's just the things that I like in my natural state."
In that interview, Scott also discussed his partnership with Parsons and how working with Dior will help. "I always try to figure out a moment where we can use whatever comes from this to literally try to give back to the people that really need this stuff," he added. "I launched this foundation with Parsons to help kids in Houston to attend that school. There's way more creatives there. If they had the opportunity to experience these programs, get out their creative ideas, have a viewing for it, it would be amazing."
For more show-stopping collaborations, take another look at Louis Vuitton's link up with Nike.


[ad_2]

Source link